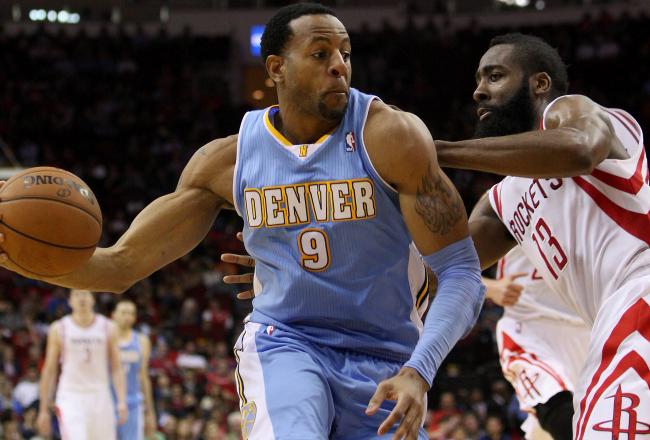 This all Western Conference tie is likely to go the Rockets way as they have taken off to a flyer this season, averaging over 105 points per game.
Visiting the Nuggets on Saturday November 16, the Rockets will be looking to get back to winning ways after a disappointing overtime loss against the 76ers on Wednesday night, their second game to reach overtime in a row. The Rockets will be hugely tired after going the extra distance twice in the last three games as well as a high-scoring win visiting the Knicks on Thursday night, and will be wary of entering the court on Saturday a little sluggish.
Houston lie just outside the Western play-off places with a 5-4 record and have one of the league's in-form men in the shape of 24-year-old Guard James Harden. Ranked fourth in the player rankings so far this season, the former OKC  man has a points average of 24.9 in his nine games and shot an impressive 35 in the Texan teams agonising one point defeat against the Lakers last week.
Beating the Pacers twice and the San Antonio Spurs during preseason, Houston are capable of beating anyone and it wouldn't be surprising to see them start to climb the standings in the next few weeks. They'll certainly want to win this one. With tough games lying ahead in the next few weeks, including the Hawks, Mavericks and Spurs all before the end of the month, they will need to cash in on the weaker teams if they are to finish in the final eight come April.
But the Nuggets will feel they can turn their fortunes against a busy Houston side. With only Friday resting, the Nuggets will feel their win against the Lakers will give them a huge confidence boost as they look to get their campaign back on track.
It's not been the best start for Denver defensively, conceding over 100 points every game on average, whilst Ty Lawson is the only player proving his worth in the side leading both the points and assists per game. It's expected to be a high-scoring game, but should the Nuggets see out a result in Minnesota on Friday night, that could prove a turning point in the Nuggets season, and who knows, the result could quite easily go against the odds.