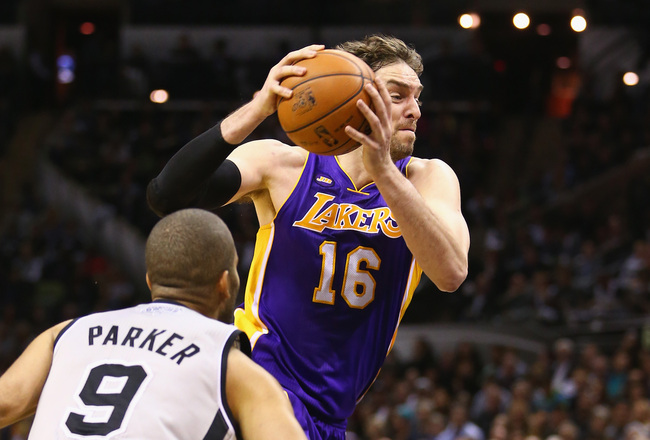 The final game of the weekend sees the Pistons travel to the Staples Center to take on a Lakers side that has once again had a slow start to their campaign. The Lakers struggled to find any form early in the 2012-13 season and with Kobe Bryant and twice league MVP Steve Nash still on the sidelines, it could once again be a tricky season for the 16-time NBA Champions.
Nash is out for two weeks with a nerve root irritation in his back and met with a specialist following their 113-90 home loss versus the Timberwolves last weekend. Approaching the end of his career, the 39-year-old has been riddled with injuries the last few years, missing the Lakers playoff campaign against the Spurs late last season and a host of other niggles that stem from a fractured fibula he picked up early last season. It looks as though it might be a long few seasons seeing out his contract in LA. He's yet to complete 30 minutes for the side this season and is performing at a shadow of his former self.
And it gets worse for the LA side. An MRI scan on Tuesday revealed that 7 ft Spaniard Pau Gasol has been carrying a muscle strain in his left foot, a recurrence of the plantar fascia injury that kept him out of 20 games last year. However, the former Grizzlies forward has played through the strain but has struggled to find top form, making only 38.2% of his shots. The Lakers will be encouraged by his last outing though. Finishing with a game-high 25 points and 12 rebounds in their defeat to the Nuggets, they will be hoping the injury will have eased as they enter a crucial part of the season.
Standing 4th in the Pacific Division, the Lakers have failed to record back-to-back victories so far this season and will look to remedy that when they meet Gasol's former side on Friday and the big Pistons match-up on Sunday. And back-to-back victories are achievable. The Grizzlies have lost their last two outings, whilst the Pistons are in a major slump lying fifth in the Central standings and haven't won in their last four.
Whilst it has been a tough run-in for the Motor City, they have had the Pacers, OKC, Portland and Golden State Warriors put in front of them in the last week and a half, and last recorded a win against the Celtics with their two star men playing a big game.
It appears only Center Andre Drummond and Point Guard Brandon Jennings are performing this season, with them both leading the individual leader boards as the Michigan team continue to slide down the rankings. And they could continue to slide, unless they can turn things around on Friday in Sacramento or against the Lakers at the Staples Center.
With both teams not in great form, and the Lakers injury list as long as Gasol's arm-span, it could be a tie that goes either way. LA will have to be wary of Jennings in particular, who is averaging almost 20 points per game and could have good odds in the NBA betting on a double-double against a defence that, on average, is conceding 105 per game. But with the Pistons confidence at an all-time low, the Californian team should take full advantage in the last game of the week on November 17.