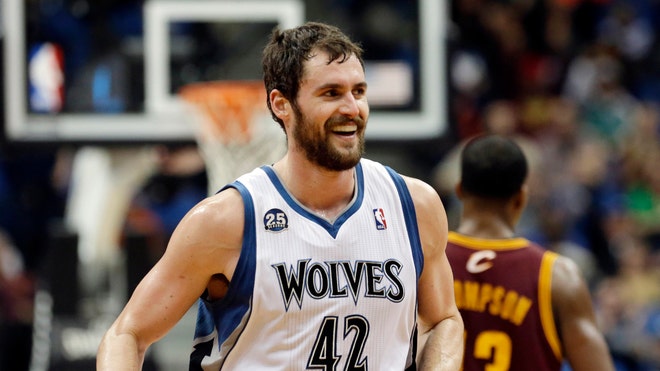 It was a battle of the leading men on Tuesday night when the Timberwolves took on the Pacers and it looks set to be the same come Saturday November 30 when Kevin Love squares up against Mavericks Guard Monta Ellis.
Love came out behind of Paul George on Monday night as Indiana moved to a 13-1 record, with George netting 26 points to Love's 20. It will be a knock to the Timberwolves confidence in what was a master class from both George and George Hill who combined for over 50 points.
The Timberwolves have been scrapping away to no avail in recent games and will need to pick their selves up after another defeat against Northwest Division rivals Denver on Wednesday night, beginning at the AmericanAirlines Center at the weekend.
It's been bandied around that the Timberwolves are a one-man team this season with Love's performances being integral in decided Minnesota's results. Hitting double-doubles on a regular basis, the Forward-Center is averaging 24.6 PPG whilst he has hit scores of post-25 five times in the last fortnight.
It promises to be an interesting matchup against Ellis, who has also been posting high scores, including a 37 point game versus the Rockets during a four game winning streak earlier this month. With an average of 23.5, the Guard will be encouraged by a weak defence that are currently conceding almost 100 points per outing.
However, their defence will be boosted by the signing of Sacramento Kings Forward Luc Mbah a Moute, in what is being seen as an important move in the Wolves season.
The teams met just a few weeks ago on November 8 in a thrilling encounter in Minneapolis with the home side running out 116-108 winners, with Love playing a star role. Scoring 32 and 15 rebounds, the 25-year-old will find it a lot more difficult to get the better of Ellis' Mavericks having come off the back of potentially three straight defeats.
The Mavericks could also have been entering Saturday with a similar record if it wasn't for a strong first quarter against GSW on Wednesday evening. Suffering back-to-back defeats against the Nuggets beforehand Dallas held on in the final quarter to seal the win ahead of a trip to Atlanta to take on a Hawks side who sit second in the Southeast Division.
Head-to-head it also suggests a close one. In recent years, neither side have been able to get the better of each other with the teams both taking two games each in their four last season. And it looks as though it could go a similar way. Perhaps going in slightly fresher, after what will have been a difficult night for the Mavericks on Friday, you would fancy the T-Wolves who will want to get their season back on track as they head closer to the New Year.